Happy couple with tragedy ending: Colour Photo
Color Photo has got a lot of fame in the year 2020 from the moment it released officially on Aha. This is one of those telugu new movies online that got hit in very less time. This film will make you revisit your most emotional journey in love as it consists of two characters who go through a lot of external struggle in their love life. This whole movie was set in a small village which takes you back to your origins. You can watch new Telugu movies online only on aha.
Plot:
The story begins with Jayakrishna having fun and chilling with his group of friends near his college. They smoke all together where sometimes they hide from seniors as they come to the same spot. Jayakrishna loves a girl in his class who is fair. His friends laugh at him for being highly optimistic as he himself is dark. Being an innocent, Jayakrishna couldn't start a conversation with Deepthi. One fine day, they both meet in a small village bus stop all alone and she welcomes him to her birthday party. That is when they both are connected and start to converse normally which leads to personal meetings all alone without anyone. They slowly start to like each other and agree to get married after settling in the future. As they are officially in a relationship, Jayakrishna is afraid that people will laugh if they know that such a fair girl has fallen for such a dark guy. So he requests her to keep their relationship a secret. But somehow, Deepthi's brother, Ramraju, a police officer gets to know about them. Ramraju is a colourist who doesn't agree with a couple being of different skin coloured. He uses his police force to break them apart. Ramraju even scares Jayakrishna by feeding him food prepared by killing Jayakrishna's pet. He is an evil character with whom people wouldn't take up on a chance to fight back. As the couple gets weakened to his power, they come to a decision that destroys the future of them and their families. The twist that comes further in the story will just blow your mind as it is something never to be expected in love stories.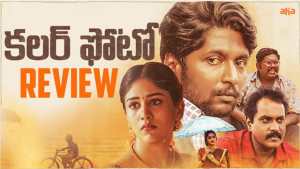 Technical Aspects:
Cinematography of the film is outstanding when it comes to showing the nature and ocean in the village.
Direction is fantastic and there's nothing imperfect about it.
Songs and Music has won all the hearts of telugu people.
Artists Performances:
All the actors in the film have wonderfully played.
Especially ChandiniChowdary and Suhas are totally involved in their characters which is enough to make anyone cry.
The dialogue delivery of the actor Sunil is pretty strong to make any men kneel in front of him. He played really well to his character.
Cast and Crew OfColour Photo:
Actor: Sushas
Actress: ChandiniChowdary
Other actors: Sunil, Harsha, Divya, Vidya
Director: Sundeep Raj
Producer: Sai RajeshaNeelam, Benny Muppaneni
If you are a romantic movie enthusiast, Color Photo is a must watch film for you. This is one of the telugu new movies online that have been released in recent years and you can watch color photo movie online only on Aha.